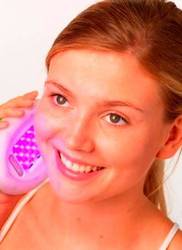 Cambridge, UK (PRWeb UK) November 26, 2009
This December, light therapy expert, Lumie, is launching Lumie Clear a brand new innovative handheld medical device that uses phototherapy to provide quick, natural, pain free treatment to the common skin condition, acne vulgaris.
Based on published research , Lumie, a company with over 18 years experience in light therapy, is launching Lumie Clear. The new LED based light provides effective treatment for acne that is both safe and without any known side effects. In published studies where this type of light therapy has been used every day over a six week period, subjects reported noticeable improvements to their acne; after12 weeks continued use, some reported 75 per cent clearance.
Using a combination of blue and red LEDs, Lumie Clear emits two wavelengths of light; blue (415nm) to kill the bacteria causing acne and red (660nm) to stimulate healthy tissue growth and decrease inflammation.
Aimed at the mild to moderate sufferer, Lumie Clear should be used as part of a daily skincare routine over a 12 week period. The built-in timer provides quick 15 minute bursts of light that need to be applied to each area affected by acne. The ergonomic design allows Lumie Clear to be used in a number of ways:

By detaching the treatment head away from the base unit, Lumie Clear can be used as a handheld device to offer quick, intensive treatment at a close up distance
Place the treatment head back onto the base unit and Lumie Clear can be used hands-free at an angled position that targets the face as treatment is less intensive, it will need to be used for longer
Keeping the treatment head attached to the base unit, Lumie Clear can be angled to a second hands-free position that targets those difficult to reach areas, like the back and shoulders again because treatment is less intensive, it will need to be used for longer.
Acne vulgaris is a widespread skin complaint found in up to 80 per cent of adolescents. It constitutes nearly one fifth of all visits to dermatologists and has a higher female occurrence. The onset of the condition usually starts around puberty and symptoms can last well into adult life.
Lumie Clear has the advantage over the vast number of medicinal treatments available which experts like the Bupa Health Team, advise present many challenges to both dermatologists and patients. Topical remedies like creams and gels have a messy application, can produce slow results and can cause painful irritation. Oral drugs such as antibiotics can increase bacterial resistance, and others may cause severe long term side effects.
Dr Rakesh Patalay, BSc MBBS MRCP, Research Fellow in Dermatology at Hammersmith Hospital, said: Over the last five years there has been increasing evidence that light based therapies using blue and red wavelengths are effective for the treatment of acne – some patients even reporting up to 75 per cent clearance after 12 weeks continued use.
Based on research originally carried out by Hammersmith Hospital, further clinical trials have now taken place that demonstrate the efficacy of this type of application for the treatment of acne.
Im sure many acne sufferers will welcome the introduction of home based light therapy treatments as they provide an alternative to creams, gels and antibiotics.
Lumie Clear features include:

Certified as medical device
Combined treatment from blue and red LEDs
Typically 15 minutes daily treatment at near contact
Handheld device
Base unit so that light can be used hands free in two angled positions
Built-in timer providing 15minute bursts of light
Jonathan Cridland, CEO of Lumie, said: We have been in the light therapy industry for a long time now and have seen the number of applications in which it can be applied grow considerably. Its no longer just about Seasonal Affective Disorder and the winter blues, as scientific research has also shown that light therapy can be used in other areas to regulate sleep patterns, boost energy and provide pain free treatments to skin conditions, like acne.
Light therapy is already a well established treatment in the skincare industry, but has only been readily available from dermatologists at specialist clinics. Lumie Clear is completely unique; it offers home based treatment incorporating light from both blue and red wavelengths simultaneously (to speed-up treatment time), is hand held or can be used from a dressing table hands-free.
We are all very excited to see the launch of Lumie Clear as not only does it offer a natural alternative to medicinal treatments like creams and antibiotics, but its safe, effective and has no known side effects.
Notes to Editors:

If you would like any further information, access to scientific research or comments from academic experts, please do not hesitate to contact the Lumie press office on 01954 780 500 or email lindsay (at) lumie (dot) com
The violet light emitted by the LEDs in Lumie Clear are very bright, Lumie therefore recommends that users do not stare at the light with the naked eye Lumie supply users with goggles and recommend they should be worn during treatment.
Research Abstract:
Phototherapy with blue (415 nm) and red (660 nm) light in the treatment of acne vulgaris

P.PAPAGEORGIOU, A.KATSAMBAS* AND A.CHU

Unit of Dermatology, Imperial College of Science, Technology and Medicine, Hammersmith Hospital, DuCane Road, London W12 0NN, U.K.

*Adreas Sygros Hospital, Athens, Greece
"In this study we have evaluated the use of blue light (peak at 415 nm) and a mixed blue and red light (peaks at 415 and 660 nm) in the treatment of acne vulgaris. One hundred and seven patients with mild to moderate acne vulgaris were randomized into four treatment groups: blue light, mixed blue and red light, cool white light and 5% benzoyl peroxide cream. Subjects in the phototherapy groups used portable light sources and irradiation was carried out daily for 15 min. Comparative assessment between the three light sources was made in an observer-blinded fashion, but this could not be achieved for the use of benzoyl peroxide. Assessments were performed every 4 weeks. After 12 weeks of active treatment a mean improvement of 76% (95% confidence interval 66
Click Here To Check Out This Red Spots On Skin Solution
Related posts: